About Vigilantes
Vigilantes is a compelling crime themed, turn based tactical RPG game for PC. Vigilantes is currently available as a free alpha, which offers a small slice of gameplay. If you'd like to support the game, a paid version is available at a significant discount on the final retail price. You can find the alpha here, and purchase Vigilantes here.
The city's going to hell. On the streets and behind closed doors, the Mafia infiltrates and corrupts the civic power structure. Gun crazy paramilitary survivalists wreak havoc, while packs of flat out crazy Churchers roam, stealing anything that isn't bolted down, and burning anything that is. Enter Sam Contino.
Run surveillance to locate the criminal threat, and launch tense, tactical operations against Reiker City's gangs. Take down criminals with fluidly animated hand to hand combat, a variety of close combat weapons, firearms, and explosives. Forge Sam Contino into the ultimate vigilante with the deep UPLIFT character development system, and call in other vigilantes for backup. Purchase or craft a variety of weapons and equipment, and enjoy a carefully crafted story supported by first rate artwork and quality voice acting.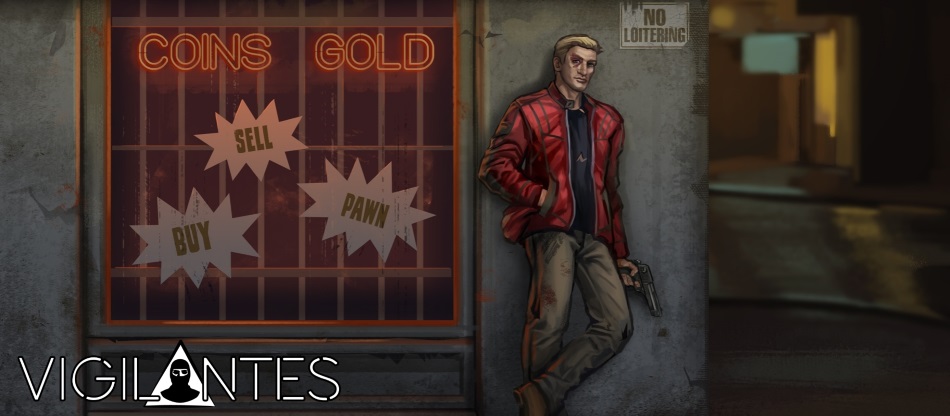 Features
Tense Turn Based Combat
Vigilantes offers tense, tactical, turned based battles in which Sam Contino and his allies engage in combat with three deadly and distinct gangs. Engage in fluidly animated hand to hand combat, or choose from dozens of melee, ranged, and explosive weapons. For an extra edge, you can begin your assault before the bullets start to fly by psychologically manipulating criminals in dialogue.
A Hidden Foe
Run surveillance operations in different city districts to locate and assess the criminal threat. Track down and neutralise gang leaders and criminal operations like black markets, numbers rackets, and chop shops to free Reiker City of its criminal scourge.
Deep Character Development
Develop Sam and his allies to suit your playstyle, using the deep and comprehensive UPLIFT (Utility, Prowess, Leadership, Instinct, Fleetness, Toughness) stat system, improve 9 skills through training and use, and choosing from a wide range of game changing perks. Become a melee tank, a hawk eye sniper, a combat medic, an explosives expert, an inspiring leader, a master of manipulation, a tinkerer, or a combination of the above.
A Little Help Here!
Locate and build a formidable team of like minded individuals, such as Ray Case, a fast talking tip of the fedora to the classic private eye, or Elena Furey, a woman whose hatred for the survivalists is the only thing left in her life.
Storytelling, Art, and the Human Voice
Experience a compelling and meticulously crafted story, supported by high quality illustrations of the vigilantes, the city, and its gangs, and first rate voice acting.
A Base of Operations
Build facilities such as a workshop, firing range, gym, and library to train skills and gain bonuses.