Prometheus Wept Announced!
Since the release of Vigilantes, I've been hard at work on a third game and have made sufficient progress to create a Steam page and share more information. The new game is Prometheus Wept, a turn and party based RPG in a post technology world. While a considerable amount of work remains before a demo will be available, periodic development logs will soon commence to provide you with more info on various aspects of the game. I hope you'll stick around and join me on the journey.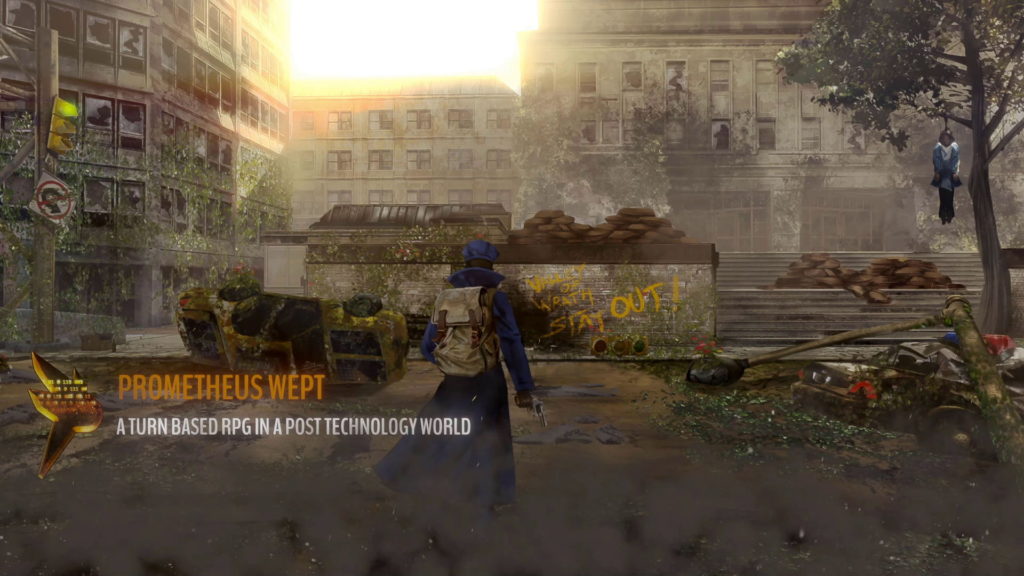 Pssst… this isn't the protagonist.
On a near future earth in which digital technology has become more entrenched in our lives and we, even more dependent on technology, everything changes forever when an unstoppable computer virus renders virtually all our technology inoperable in mere hours. Automated transit, agriculture, manufacturing and utility systems all cease to function. Mass communication is disrupted. Even the smart kettle connected to your home network stops working.
In the ensuing chaos, society tears itself apart. Resource shortage, fear, the loss of technology and infrastructure result in widespread death and violence. Governments fall. Nations fragment into insular communities and city states.
The action of Prometheus Wept takes place several generations after the catastrophe, in a world where civilization, knowledge and technical understand have greatly receded from the high watermark of the now mythical mid 21st century. You, the player, assume the role of a wandering C-Tec, or classical technologist, an individual who carries a spark of the old flame of knowledge, technology and civilization. Surviving among the splintered remnants of humanity, you search for and attempt to restore the technological relics of humanity's mythical golden age.
If you'd like to see some early screenshots and a provisional outline of the features, you can find these on the Steam Page.
The above video shows a flythrough of The Drag, one of the first locations you will visit in Prometheus Wept. It's an isolated fishing community and a satellite community of Sunny Pines, the primary location in Act 1. 
As soon as there is a demo, your help with feedback and improving game stability would be greatly appreciated. Until then, it would be a huge help if you added Prometheus Wept to your wishlist on Steam and tell your friends about the game.
How can I stay up to date with development?
Development updates will take the form of blog posts and likely development videos. To be notified of updates, you can sign up to the Steam Community Hub, the newsletter, or follow Prometheus Wept on Indie DB.
Until the next time! Stay safe.
Daithi